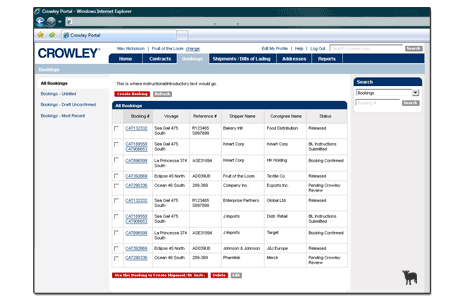 Crowley Maritime Corporation
LaMB UX flew into Jacksonville for a 4-week whirlwind assignment: to assess Crowley's current use cases for a new internal application and tie them all together in a cogent navigation design.
We were able to come up to speed on the overview of international shipping within 2 days.  By the 3rd day, LaMB UX was busy at work organizing the task analysis and overall information architecture.  3 weeks later, we produced a totally new prototype after vetting it with stakeholders.
At the close of week 4, we had turned over a funtional living style guide for our contract partner to utilize in development going forward.
We designed this using Adobe Photoshop for implementation through CSS and IBM Websphere.