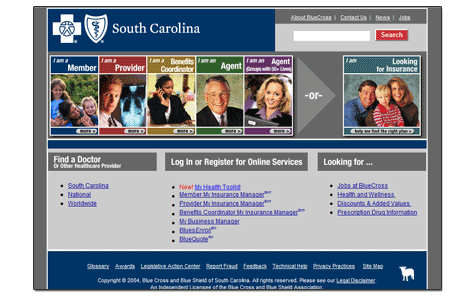 BlueCross BlueShield of SC
While contracting through an approved vendor, Designer Luke Borgnis created the award-winning user interface for this insurance giant's web portal.  The challenge was to create a clear starting point for a diverse user group while establishing and maintaining a corporate standard throughout the site.
Working in collaboration with a number of developers, analysts and corporate leaders, Luke was able to design an extensive style guide for the site that has stood the test of time: Over 5 years later and it's still the standard by which all new pages are created.
In addition, Luke was on the team that performed usability testing in the onsite laboratory.  This, among other human factors data gathering techniques, helped to round out this design and hit our target.